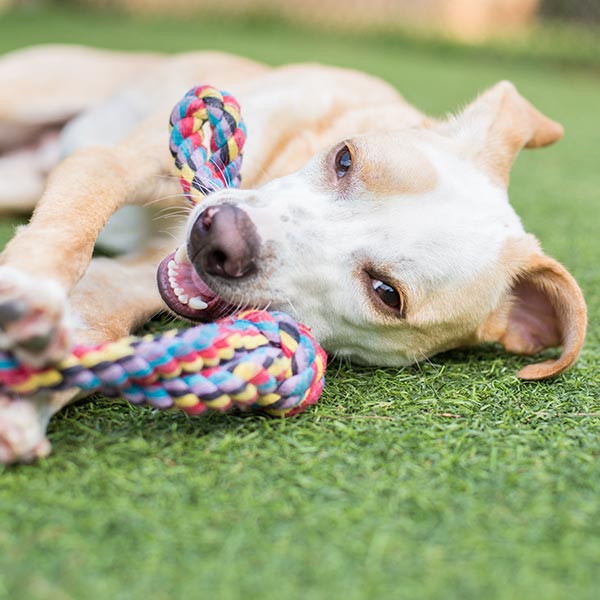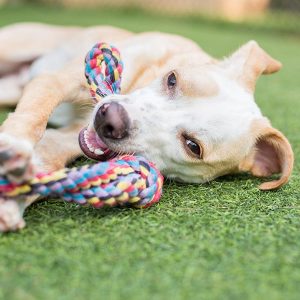 If you are looking for dog boarding, you may wonder, "Where's the best, most reasonably priced dog boarding near me?" If you live in the Bensalem, Pennsylvania area, look no further than Pet Castle Resort!
Ultimate Boarding Comfort
Surprising or not, it has been proven that dogs are calmed by the sound of human voices. We make use of this calming technique at Pet Castle Resort! Since we know your pup will be sad to be away from you, we do everything we can to make sure that they are distracted, calm and having fun. Some of our suites even have televisions so that dogs may relax to the sounds of people talking! This calming technique is perfect for dogs prone to separation anxiety.
Pet Castle Resort's custom-built suites are all supplied with filtered water, privacy, comfortable bedding and, of course, toys for endless entertainment. We stand by our goal to ensure that each furry guest has a safe, healthy and comfortable environment to relax in while you are away.
Pricing starts at $42 per day for a standard room, $51 per day for a deluxe room and $70 per day for a suite, TV included. Your second dog is always half priced if staying in the same room.
Full day care is included in all boarding packages. Your pet will still miss you, but they will have a blast while out and about in play groups! Get the most fun with your money for your pet's ultimate enjoyment. When friends ask, "Where is the best, most reasonably priced dog boarding near me you are sure to quickly answer, "Pet Castle Resort!"
All vaccines must be kept current. Please provide proof of immunization each time they are renewed. Pet Castle Resort strongly recommends that your pet be on a flea and tick regimen.
Cats Are Welcome Too!
Our facility would not feel whole if it didn't cater to felines too! We have created a separate area for cats to relax away from the doggie fun. Each suite is designed to provide spacious room for them to stretch, climb and jump to their kitty heart's content. Our staff will make sure that they receive the attention that they deserve (as long as they want it). Your feline is guaranteed to rave about their purrrfect visit once home!
Our cat boarding rates are $27 per day with a sibling in the same suite being half priced. Give us a call for information about special rates beyond 10 day stays. All feline guests must have current vaccinations for both rabies and FVRCP.
Find Your Pet's Home Away From Home
Find out why Pet Castle Resort is the solution to your grooming, boarding and doggie day care needs. When you hear someone ask, "Where is the best dog boarding near me" the answer will be, "Pet Castle Resort" time and time again.
Contact us online or visit our facility to find out why your pet will have a blast with us. We are located at 600 E. Lincoln Highway, Langhorne, Pennsylvania. and open Monday through Friday 6:30am through 7:00pm, Saturday 8:00am through 5:00pm and Sunday 8:00am through 3:00pm.